Cost of running kitchen appliances over the last year has increased and with the on going Cost of living crisis they are only going to increase.
I have been teaching budget cooking for 13 years next month and never has it been so crucial about planning your meals to make your money go further not just ingredients used but time taken to cook it and using devises more effectively.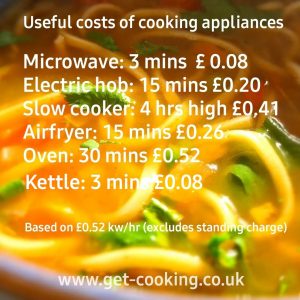 These results are based on the following ratings as you may have seen various examples. I have worked them out based on average usage.
They are an estimated guess and don't take into account energy consumption fluctuations throughout the cooking process. (Generally high at start and then maintaining heat)
**Worth looking at the back of your appliances**.
From October cap will be 52p/kwh (cost depends on regional network charges)
Gas cap will be about 15p/kWh so running gas hob is cheaper than electric.
Oven 2kW based on 180C
Air fryer 2kW (some models are lower rated and cheaper to run)
Slow cooker 200W high 100W low
Microwave/ Kettle 3kW
Electric Hob, 1 ring 1.5kW
I hope this helps. There are so many people already restricting their usage. The high daily standing charge is really unhelpful.
Air fryers – are they really worth it? Yes if you are going to use it on a regular basis, especially if cooking in small quantities as the smaller models are rated below 1Kw. Larger families will need a larger capacity model and tend to be higher rated. They tend to cook food in half the time of an oven so an effective solution against higher electricity costs.
Some models have multi features while more expensive take up less space than three or more other appliances.  It all depends if you are actually going to use those features or just go for a basic model.
I have written various blogs to help save money in the kitchen and every little helps but feels like a drop in the ocean. 😪
25 easy ideas to reduce kitchen energy costs
20 Top tips to save money on food