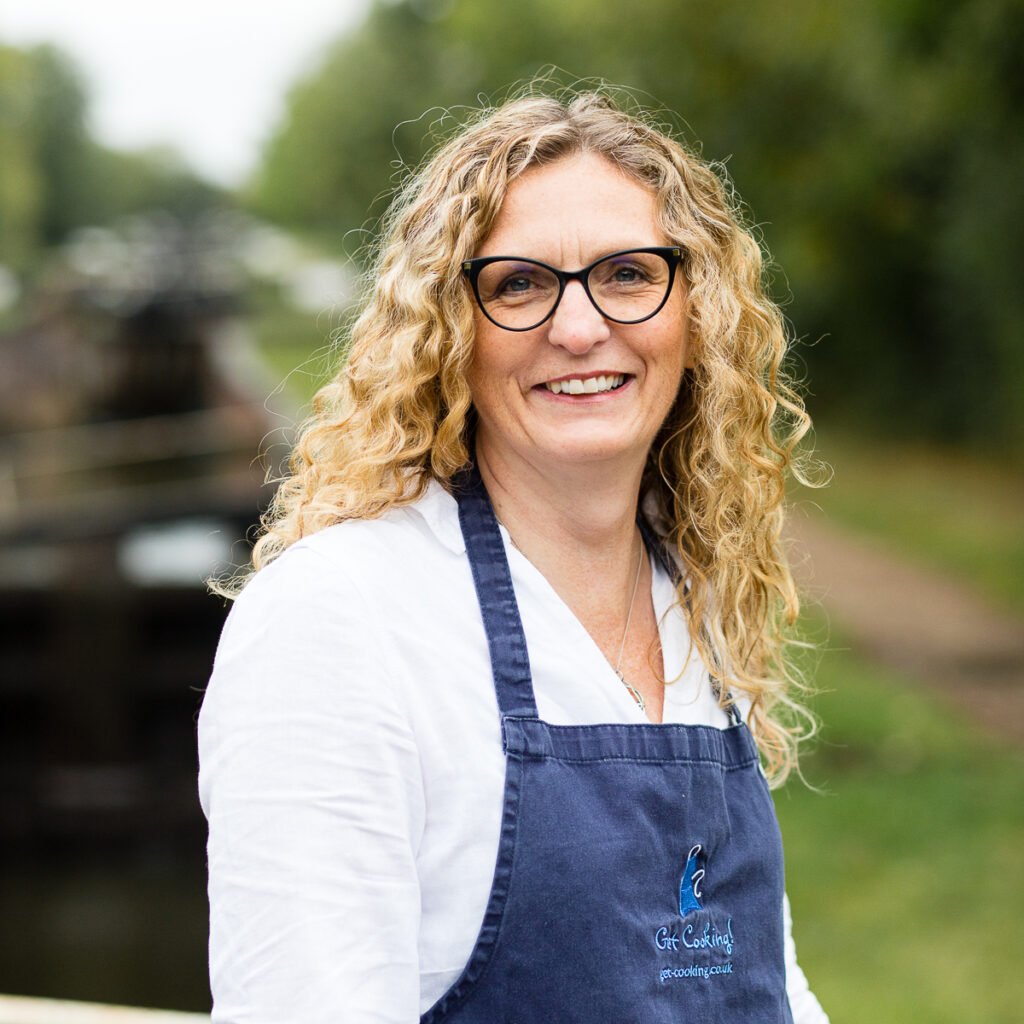 Aim of Get Cooking!
Welcome to Get Cooking! I believe anyone can cook with a little help, and I aim to make cooking a pleasure and not a chore.
I show people that cooking does not have to be complicated or use expensive ingredients to taste good.
It's all about confidence about knowing what tastes good together. Mastering simple basic techniques to make a few staple dishes, which can be expanded into something else.
Cooking Made Easy!
"I wish I'd had the benefit of Anne Marie's expert (and friendly) tuition when I started baking 40 years ago!! But it's never too late to Get Cooking!"
How I help you be a better cook
Some of us were lucky to watch our mum or nan cooking growing up. Somehow, just by being around other people cooking, the basic techniques went in, almost by osmosis.
Over the last forty years, food education has changed, leading to two generations leaving school without skills to produce cheap, quick, healthy meals and repurpose leftovers.
Is cooking just another thing on your to-do list? Or do you feel you can only cook something you've cooked a hundred times before?
I can teach you very quickly to cook with confidence, both for yourself, your family and your friends.
I love introducing new simple techniques and showing how to prepare ingredients and cook efficiently.  You will leave a lesson feeling confident enough to substitute ingredients in a recipe.
Recipes help people remember how to cook a dish rather than a set of hard and fast rules!  Although baking, it can make a big difference if accurate measures are not followed!
Everyone deserves the opportunity to Get Cooking! with Anne Marie Lambert.
I offer a range of award-winning cooking experiences, both online via Zoom and in person in Warwick, Leamington Spa and throughout Warwickshire; I regularly travel into the Cotswolds and other parts of the West Midlands to provide cooking lessons and demonstrations.
Choose between private cooking lessons or group cooking workshops in Warwick.  I also provide well-being corporate cooking workshops and budget cooking programmes with organisations online and in the community.
Cooking is a basic life skill that all children and adults should have access to. It makes you healthier and happier. It can bring greater health benefits and pleasure to you and those around you.
"as seen on tv"
In 2022 I was invited onto Channel 5's Secrets of Your Supermarket shop to pass on hints and tips for reducing the cost of family favourite meals. Read more about it here, and it includes a link to the programme (I'm 15 minutes from the end).
I am well known as a budget cooking expert in Warwickshire and appeared on various local BBC radio stations and BBC 5Live over the years. I have given many talks on how to reduce food waste, budget cooking and how to be more sustainable in the kitchen, along with cooking demonstrations at WI's and local food festivals.
I teach various cooking styles emphasising affordable seasonal plant-based recipes and more traditional cooking and baking. Cooking lessons are tailored to your dietary requirements.
I love to show how you can cook with what you have in your cupboards rather than what you don't.
What I believe in
Everybody can cook
Whether you're eating, or sharing it, good food makes people happier.
I founded Get Cooking! in 2009 to help people of all ages to learn how to cook and find their cooking mojo. I wanted to show how you could eat your favourite takeaway food more healthy, tasty and affordable.
Perhaps you never really learnt to cook in the first place, or you used to cook but have lost enthusiasm or confidence in your ability?
I can help you cook with confidence again. Having somebody to cook alongside face to face or a virtual cookery class, using your own equipment, is a real booster.
Cooking delicious food doesn't have to cost a fortune. Your new skill will boost your overall well-being, self-esteem and health.
Waste not, want not
I love food and hate waste and teach showing how to get the most out of ingredients. I'm lucky enough to have an allotment, and I'll often use fruit and vegetables I've grown myself when teaching.
All my lessons and cookery courses show you how to cook using seasonal vegetables and common affordable store cupboard ingredients.
Knowing more about storing food and portion control helps every cook make the most of what they've got in their kitchen cupboards, not what they haven't.  I show how you can cook more sustainably and reduce your carbon footprint in the kitchen.
Cooking in the community
I've worked extensively with organisations in Warwickshire to help people on meagre budgets make the most of every ingredient, from a loaf of bread to a tin of tomatoes. My booklet, 'Canny Cooking,' is distributed at food banks in the Leamington Spa and Warwick areas.
With the current cost of living crisis, it is more important than ever to help people feed themselves and make the most of leftovers. No cook, low-fuel budget recipes with ambient ingredients are commonly requested now. I draw on my knowledge of difficult times in my past.
I've taught various budget cooking courses since 2013 for local community projects including,  The Gap, Warwick, The Village, Solihull, Coventry Carers, Entrust Care Partnership, Helping Hands – Esther Project, Brunswick Hub, Whitnash Community Centre and Barnardo's.
Watch this video!
My background
Originally from York, I was raised in a household where my mum used to conjure meals out of thin air. She had a knack for stretching a roast and turning leftovers into new meals by adding store cupboard staples. It showed me that, with a practical skill such as cookery, there's no substitute for seeing somebody do it and then doing it alongside them. My aim with Get Cooking! is to inspire people to rediscover that skill.
I completed my BSC (Hons) Environmental Management & Technology degree in 1995.  I have always been an environmentalist at heart – ever since collecting items for Blue Peter Appeals! 
My early career in hospitality, an environmental degree with a placement year as an Environmental Officer at Gleneagles Hotel, plus roles in cost sector catering and customer care manager for a food manufacturer, have proved invaluable in understanding how to reduce food waste and cook more sustainably and economically.  I am the font of all knowledge regarding reducing food waste and making the most of a limited food budget.
For the last 14 years, I have been teaching people of all ages how to cook, in my home, your homes, schools, community venues, workplaces, and children's centres and now live online via Zoom, which is perfect for teenagers and children taking part in the Duke of Edinburgh scheme. I also run Holiday Camp Cooking Sessions at Warwick school and in my home in Warwick.
I work with local community groups to improve cooking skills bringing people together through food. I also help local organisations raise funds for their chosen charities.
Warwick District Foodbank, Helping Hands and Target Ovarian Cancer are organisations I have supported over the years, and I help raise funds for other local causes where I can.
USEFUL INFORMATION
I hold an enhanced CRB check, Public Liability Insurance, Food Hygiene Certificate, and a 5* kitchen rating. I am a qualified First Aider.
How can I help you? Contact me for all your Cooking Made Easy enquiries!