The Secrets of your supermarket shop documentary on Channel 5 asked me to show some simple ingredients swaps to make some of our favourite meals cheaper.
It was great to meet the production team and Angelica Bell. We spent a long day filming in my kitchen.  I hope you found the feature useful.  Below are the recipes featured in the programme.
Cottage pie – 4 servings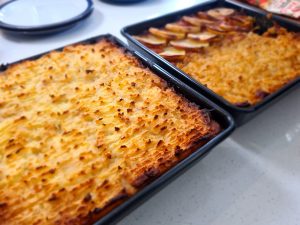 500g beef mince
1 tin of tomatoes
1 onion
2 tbsp gravy granules
750g potatoes
1-2 tsp thyme
Pinch of salt
REPLACEMENTS
Save energy by using sliced raw potatoes rather than cooking and mashing potatoes.
Use two tins of tinned potatoes – mash them up or slice thinly and place them on top of the mince mix in a casserole dish.
Replace half of the mince with half a mug of lentils, and add an extra mug of water so the mix doesn't stick to the pan.
Replace all of the mince with a mug of lentils and two mugs of water.
Add carrots and peas to bulk out the meal or replace protein.
METHOD
Fry onion, add mince and cook for a few minutes.
Add tinned tomatoes and gravy granules and thyme.
Cook for 15 minutes. (if using lentils cook for 20 minutes).
Place in a casserole dish and top with mashed potato or sliced potatoes.
Cook in the oven for 25-30 minutes until the top is crisp and golden.
Fish Curry – 4 servings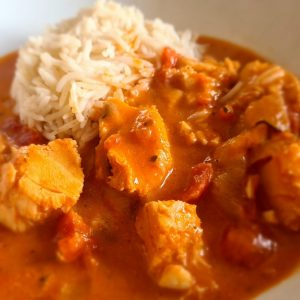 1 tin of tomatoes
1 tin of coconut milk
2 onions
350g prawns
1 tsp cumin
1tsp garam masala (or curry powder)
2 cloves garlic (optional)
2 cm of ginger (optional)
REPLACEMENTS
Replace prawns with shrimps or a mixed bag of seafood.
Alternatively, replace with 350g frozen pollock defrosted.
Bulk out the sauce with 1 tin of chickpeas or replace all of the fish with two tins or add spinach, broccoli or courgette (or alternative seasonal/frozen vegetables).
Bulk out the sauce further with cooked leftover potatoes or tinned potatoes.
METHOD
Chop and fry the onions in a pan with a pinch of salt until the onions are soft then add the garlic and ginger if you have it.  Add garam masala, cumin or curry powder.
Add the tomatoes and coconut milk and stir.
Add protein of choice and cook through for about 10 minutes.
Cheesecake – no bake (makes 150ml portion – fits a recycled dessert pot)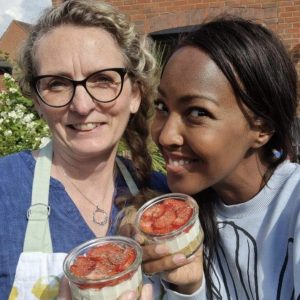 2 digestive biscuits – crushed
1-2 tsp melted butter/spread/coconut oil
2 tbsp natural yoghurt (plant/dairy)
4 tbsp cream cheese (plant/dairy)
½ tsp honey or alternatively vanilla essence
Fruit topping of choice (tinned, pureed, fresh)
Alternatively, grate a little bit of chocolate or sieve chocolate powder on top.
METHOD
Crush the biscuits in a small bowl with your fingers or the end of a rolling pin.
Add melted butter so it looks like wet sand.
Place crumb in a small container (150ml) of old gu pots or 4 shot glasses.
Press the crumb down.
Mix the cream cheese, yoghurt and honey together and place on top of the crumb base.
Place fruit on top, whole or sliced or use a fruit puree.
Add a little grated chocolate or dust with icing sugar or chocolate powder.
Place the cheesecake in the fridge to set for several hours….or eat straight away!
One that didn't make the edit!
Homemade paneer and cottage cheese
This takes a lot of milk but if you find yourself with some spare it is worth a go! Also, the remaining whey can be used in pancakes or scones.  There is a whole blog post devoted to this paneer recipe.
These further blog post may be of interest:
25 easy ideas to reduce kitchen energy costs
Cost of running kitchen appliances
Budget Cooking workshop in Leominster with FareShare produce
Hints, tips and basic recipes by Get Cooking!
Can an air fryer save you money?
Anne Marie Lambert – Budget cooking expert and more….. discover more about what I do here!