Can an air fryer save you money?
This is a question I have been asked for quite some time.  I have up until a few weeks ago resisted buying one.  Most of my cooking tends to be on the hob or I make efficient use of my oven.
After looking at the kwh of an air fryer being half the amount of the average oven and the fact it cooks generally half the time of an electric oven the stats kind of speak for themselves.
Which air fryer is the best?
Well that all depends what you want to use it for. If it is just to simply cook a tray of items you would normally use one shelf in the oven then probably yes.  You may like one with two drawers so you can cook things with different cooking times.
Air fryers come in a range of sizes suitable for one or two people to larger families.
Prices start at £20 for a basic small one to £300 for air fryers that combine many other cooking techniques.
You really need to decide if you will use all those features or just require the basics.
Some include steaming, slow cooker and pressure cooker options which can be appealing if you only have space for one gadget on your worktop.
It really is worth doing your research.
You are probably wondering which one I bought? Well due to a good discount and being cheaper than other models I purchased the Ninja Foodi.  This has a basket and shelves and has many different cooking options.  The pressure cooker and the dehydrator won it for me in the end as I don't have them and been looking to buy.
So far I have been really impressed with it although it is noisier than expected!
This week I was given the challenge by BBC CWR, you can listen to the interview here :
CAN YOU COOK A FULL ENGLISH BREAKFAST IN AN AIR FRYER?
Well challenge accepted I had a think about how I normally cook my bacon and sausage (slowly in the oven on a tray) fry egg, mushrooms, potato rosti and tomato in a frying pan and heat up beans in a pan.
I decided to use the air fryer mode at 170C and use the two shelves provided.
I placed the potato rostis in miniature cake tins and placed on the bottom of the air fryer.
I then placed 4 chipolata sausages and 4 rashers of streaky bacon on the bottom shelf and set the air fryer to air fry for 14 minutes.
After 8 minutes I then added the beans, sliced mushrooms, egg and tomatoes to the top shelf.  All the ingredients were placed in mini none stick pudding tins.
The egg was perfectly cooked, runny in the middle, the bacon, sausages and hash browns were caramelised beautifully.
*timings and temperature may need to be adjusted for other models but hope this is a good starting point if you want to give it a go.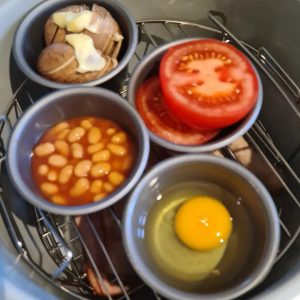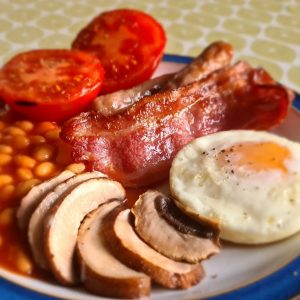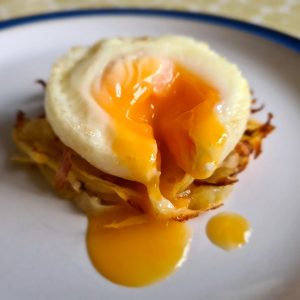 I have to say it was great for making breakfast all in one pot and the none stick bakeware made it easy to clean up afterwards.
Looking forward to being more creative in the coming months.  If you are looking for inspiration at meal times and are a member of Facebook join my Cooking Made Easy group for cooking chat, hints and tips and budget friendly recipes.
If you would like to find out more about air fryers and not sure if it is for you, why not have a private cooking lesson.  Learn how to make the most of your air fryer so it does not become another appliance gathering dust on the worktop.
Get in touch for more information.