What can I make from sour milk?
You can make a range of dishes with it to avoid throwing it out before it goes completely rancid.  Paneer and cottage cheese can be made; the remaining liquid (whey) can be used in pancakes, chapatis, bread, and scones.
You can use sour milk in replacement of buttermilk.
What is sour milk?
It is milk in which acidification has occurred; this can occur naturally after a length of time particularly if left out of the fridge.  It can also be produced by adding an acid like lemon juice or vinegar.
What is the difference between sour milk and buttermilk?
Spoiled milk is made by adding an acid, such as lemon or vinegar.  Whereas, buttermilk is the result of whipping double cream until it is separated into butter and whey.
What can affect the quantity and quality of cheese made?
Brand or variety and the batch of milk have different levels of fat content.
Seasons – in summer, cows tend to produce less fat in the milk when it is warm. (I know this from my old Costa coffee days when we used to have a problem frothing the milk on really hot days!)
Did you know buffalo milk has twice the fat content as cow milk? This produces more cheese.
How do I make my own paneer or cottage cheese from sour milk?
Add milk to a pan and bring slowly to a boil on low to medium heat.
Once it has started to boil, add the lemon juice or vinegar.
Make sure it is starting to curdle before you turn the heat off.
Leave to form into clumps for 5 minutes in the pan.
Place a colander on top of a bowl or jug then place a muslin /cotton cloth/handkerchief
inside the sieve.
Pour the curds and whey into the sieve.  Save the whey to use in baking.
Rinse the cheese to eliminate the lemon/vinegar taste and smell.
Drain off all the water and squeeze out the excess through the cloth.  This loose cheese is cottage cheese.
To make paneer, keep the cheese in the cloth in the sieve and place a heavy object on top to remove the remaining liquid.  Leave it for about an hour.
How do I store Paneer?
In the fridge. You can store it whole or cut it into cubes. You can place a damp cloth around it so it doesn't dry out or you can submerge in water in a lidded container to keep the paneer soft.  The paneer should be ok for at least two or three days.
To use paneer: add to a curry near the end of cooking so it heats through but does not become rubbery.
DO NOT BOIL! It will crumble and disintegrate.
DON'T OVERCOOK It will go hard and rubbery.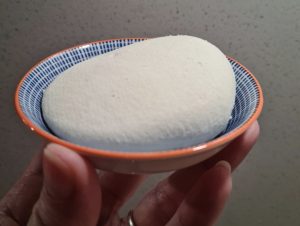 RECIPE USED TO MAKE PANEER OR COTTAGE CHEESE
750 ml milk  (you can even use dried milk! 1 tbsp milk powder to 100ml water)
1 tbsp lemon juice
Yield: approximately 60g of cheese (this is not a lot but is better than wasting milk that has gone off). Also, you can use the remaining liquid in your baking in replacement of buttermilk.
N.B. The amount will be different each time depending on the milk used.
I did an experiment just using 250 ml of milk and 1 tsp of lemon juice and was surprised by the results!
Semi-skimmed (Milk and More organic) produced 20g of cheese.
Semi-skimmed dried milk (Morrisons) produced 10.8g of cheese.
Full-fat milk (Co-op) produced 4.3g of cheese.
These recipes can be demonstrated on Zoom for corporate well-being events/show how to reduce food waste or at community events by Anne Marie.
Get in touch for more information to see how Get Cooking! can help you or your organisation.
More top tips to reduce food waste are below!