What a year! So glad I was able to bring a little joy into households over this last year.
Thank you to all of you that have supported and encouraged me, especially in those first few months. Lessons have ensured I what day of the week it was and my kitchen spotless too!

I have been described as a 'recipe book that talks back'  anticipating questions as we cook along. Use of language has been critical to ensure everyone has something tasty and edible at the end of a lesson.

It has been a pleasure to watch all ages grow in confidence, start to enjoy cooking and eating healthier food. Enabling people to make and enjoy dishes previously never eaten before is always a wonderful moment. 
'More than just a recipe'
From the feedback I have received and my observations Zoom cooking lessons have also provided a lifeline to the outside world to many on their own. Providing entertainment, a change of scenery and company too.  Zoom cooking has also enabled all abilities to access live classes they would have not previously been able to due to distance, disability or social anxiety.

I have met so many lovely people and shared so many celebrations between friends and family. I can't wait to meet some of you in real life lessons in the future.  For those further away don't worry I will continue to provide zoom lessons.
I think this picture pretty much sums up the last year.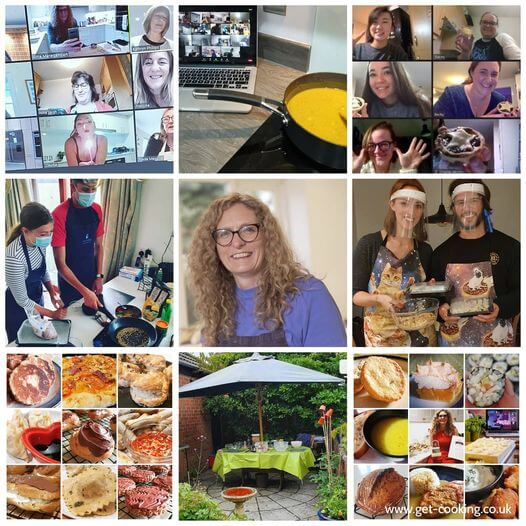 Over 80 different lesson plans!
Over 70 free community classes connecting individuals and charities through food.
At a rough guess up to 4000 people through corporate events
Teaching people all over the world….at least 15 countries
Cooking alfresco in the garden

Bookings for real life classes are into late June/July already for popular times. If you have an outstanding gift voucher please get in touch.

Live cook alongs on Zoom will definitely continue alongside real life lessons and workshops!
Click here to see our latest available classes