Virtual Event
12 week basic cooking course on zoom
9th January 2024 @ 5:00 pm

-

16th April 2024 @ 6:00 pm

Virtual Event

£30.00 – £120.00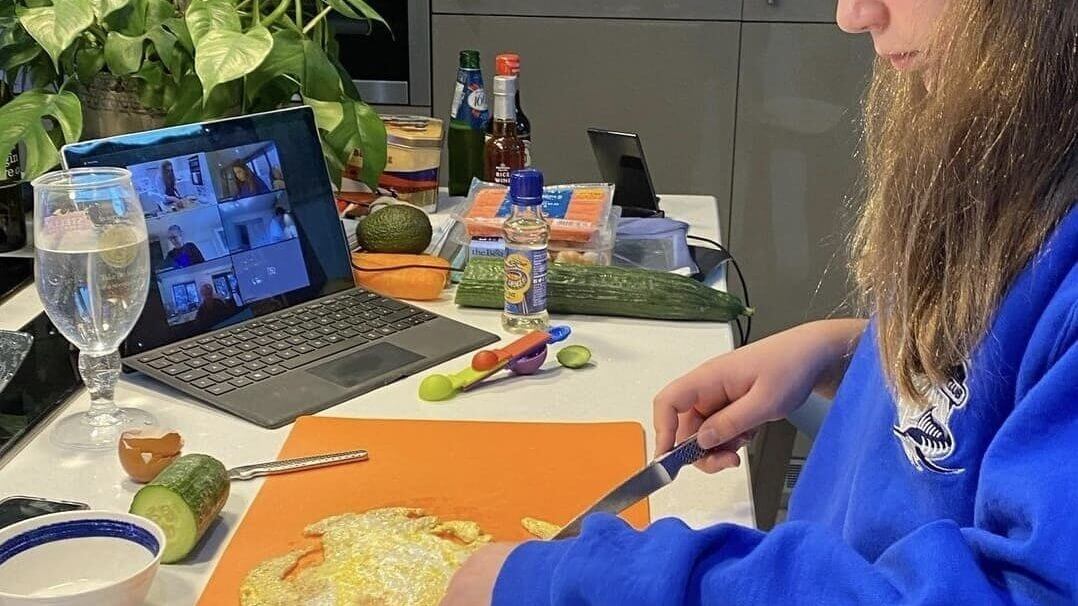 THIS 12 WEEK BASIC COOKING COURSE ON ZOOM IS AIMED AT:
Families, children aged 11+ to adult.
Children participating in the Duke of Edinburgh Award Scheme.
Young adults leaving home.
Younger children can join in with help from an adult.
Hob, oven and knife work will be undertaken so a grown-up in the room is required at all times.
COURSE OBJECTIVES
Its aim is to provide fun practical cooking skills which will enable participants to create a wide range of easy-to-prepare dishes for themselves, friends and family.
This course is 12 weeks long – around an hour between 5 – 6 p.m. on Tuesdays live on Zoom.
Due to the short length of the Spring term, the course runs into the Summer term. If you prefer to only to cook-along for 10 weeks, get in touch and a manual invoice via email can be provided.
HOW DOES IT WORK?
The Zoom link and full recipe will be sent out beforehand so you can have your ingredients ready for class.  Weighing and chopping will be done during the class, as this is part of the learning. (you may chop and weigh ingredients beforehand if you prefer to watch more and take notes).
Cameras can be switched on or off so interaction is entirely up to the individual.  Cameras switched on are preferable to encourage attendees to ask questions communicate with others and enjoy the cook-along!  It also helps Anne Marie slow to stop and wait for people before carrying out the next step.
The Zoom is not recorded.
MORE THAN JUST A RECIPE!
Lots of useful hints and tips.
How to prepare and cook staple ingredients.
Easy ways to repurpose ingredients and leftovers to create new dishes.
How to reduce food waste through correct storage of ingredients.
Knife skills, baking techniques, measuring, use of hob and oven.
Understand flavours and the use of herbs and spices.
Have fun cooking and meet new people.
OUTCOMES OF ZOOM COOKING COURSE
Ultimately it instils a love of cooking and gives confidence in the kitchen so simple dishes can be recreated. Enabling experimentation with flavours and ingredients to create dishes without ultimately referring to recipes.
Cooking course dates for 2024  Tuesday's 5 -6 pm  (Maximum 15 households)
9/1 Tomato and lentil soup with garlic bread
16/1 Spicy rice one pot and chapatis
23/1 Pizza, wedges and coleslaw
30/1 Pancakes and fruit filling
6/2 Vegetable fajitas and tortillas
Half term
20/2 Toad in the Hole and onion gravy
27/2 Katsu curry (veg or chicken)
5/3 Beef or soy mince lasagne
12/3 Vegetable quiche and salad
19/3 Baked sponge and custard
Easter Holidays
9/4 Vegetable Noodle soup and vegetable noodle salad
16/4 Vegetable Paella
For any child undertaking the Duke of Edinburgh Award, I can fill out the online assessor form for an additional £30. Please get in touch to arrange.
Quote from parents/adults on the current course:
I can't believe how much I have learned while watching my child learn to cook over the last 5 weeks! Mealtimes have become a family affair and we look forward to cooking. You make it so simple but the results are so tasty. I'm so pleased to have discovered this course!
Superb, Anne-Marie's passion for cooking is infectious, every session was fun and informative. The cost of the course is excellent value for money and I've been recommending Anne Marie to all my friends and family.

Really great course, my son loved doing this as part of his DoE, and made some fantastic food!

Anne Marie hosts fantastic cooking lessons, teaching important life skills and coming up with some delicious creations. My daughter has really enjoyed her cookery course – highly recommended!

taken from Google reviews
This course or bespoke single cooking lessons can be provided for online corporate health and well being activities.  For more information please contact Anne Marie
Related Events