12 Wk Basic Social Cooking Lessons in Warwick
12th September @ 11:00 am

-

5th December @ 12:30 pm

£120.00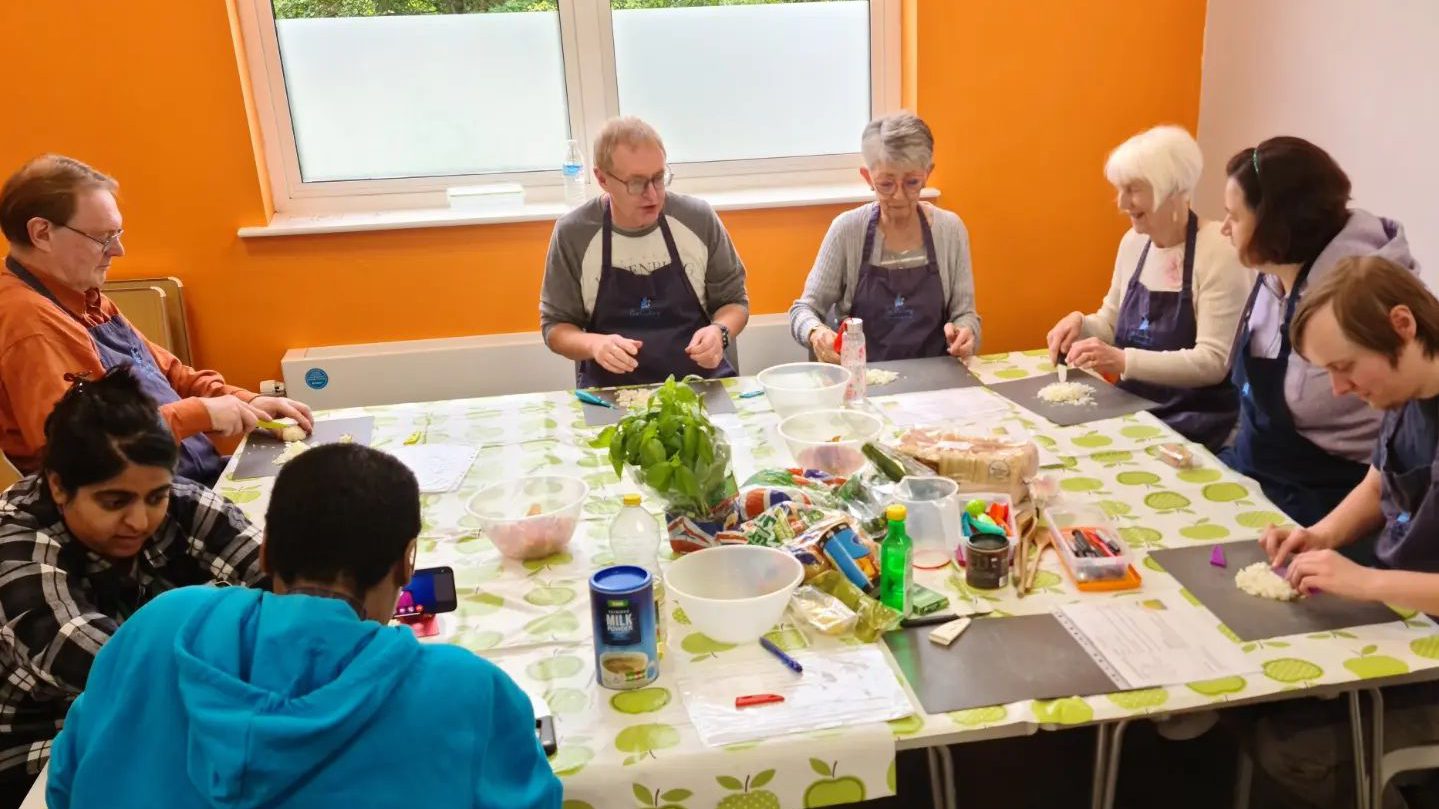 WHO ARE THESE SOCIAL ADULT COOKING LESSONS FOR?
These lessons are aimed at all ages and varying degrees of ability, from beginners to those stuck in a rut about what to cook or who want to reduce reliance on ready meals.
Are you looking to improve your cooking skills?
Need inspiration to cook healthy dinners for yourself and those you love?
Are you looking for a fun activity and meeting new people in Leamington Spa / Warwick?
Have you moved out of your home?
Struggling for healthier ideas to feed your family?
Do you want to learn some easy to create simple, tasty recipes?
This course provides a unique opportunity to learn vital cooking skills in a friendly, relaxed environment. We will use seasonal fresh ingredients (some from Anne Marie's allotment!) with common store cupboard ingredients.
BASIC COOKING COURSE OBJECTIVES
It aims to provide fun, practical cooking skills, enabling participants to create a wide range of easy-to-prepare dishes for themselves, friends and family.
This course is 12 weeks long – up to 90 minutes 11-12.30 pm on Tuesdays at Heathcote Community Centre. This will include time to sit down together and eat what has been; there will also be enough to take home to eat later, share or freeze.
HOW DOES IT WORK?
Working in pairs (sometimes alone), you will make a dish to serve four people. It will be cooked in the lesson, and then you can eat and chat while having a cuppa…then take any leftovers home.
MORE THAN JUST A RECIPE!
Lots of useful hints and tips.
How to prepare and cook staple ingredients.
Easy ways to repurpose ingredients and leftovers to create new dishes.
How to reduce food waste through correct storage of ingredients.
Knife skills, baking techniques, measuring, use of hob and oven.
Understand flavours and the use of herbs and spices.
OUTCOMES OF COOKING LESSONS
Enjoy cooking with others for a fun social activity.
Ultimately it instils a love of cooking and gives confidence in the kitchen so simple dishes can be recreated at home.
Practical kitchen skills to make healthier food.
Enable experimentation with flavours and ingredients to create dishes without referring to recipes.
COST: £120.00 for 12 weeks (includes all ingredients, recipes and use of aprons)
If spaces are remaining, you may be able to join ad-hoc lessons through the course for £10.00 per session.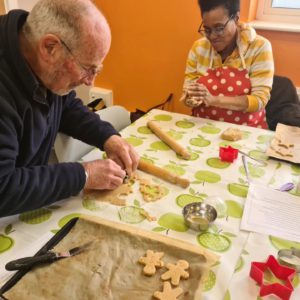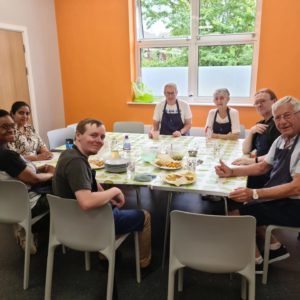 Cooking lessons start date –  from 12th September Tuesday's 11-12.30 pm to 5th December (Max 8 adults)
12/9  Vegetable Moroccan stew and cous cous
19/9  Macaroni cheese and garlic bread
26/9  Apple crumble and custard
3/10  Chicken/fish/vegetable nuggets, wedges and salad
10/10  Hummus and crackers
17/10  Vegetable chilli and cornbread
24/10   Vegetable risotto
7/11  Vegetable or Chicken korma and naans from scratch
14/11  Chicken or vegetable casserole and dumplings
21/11  Ginger biscuits
28/11  Spatchcock chicken, Hasselback potatoes and roasted vegetables
5/12  Mince pies/jam tarts
The lesson plans may be subject to change. As the weeks pass, I am happy to go with the flow if there is a general consensus to make a specific dish! Recipes will generally be kept plant-based.
For more information, please get in touch with Anne Marie.
"Had an amazing time learning new recipes and gaining confidence in the kitchen! Anne Marie is a brilliant teacher, she's very knowledgeable and makes cooking fun.

I've learned a lot and would recommend her lessons to anyone."

Amy Fleming
Related Events