Why book private cooking lessons?
Private cooking lessons in my home Warwick are my most popular offering. I love my job's variety, from individuals looking to improve cooking skills, couples looking for a fun date or celebrate a birthday or anniversary to bonding sessions between a parent and child to aunties with nephews and nieces—a chance to spend some quality time in a neutral zone, away from phones and technology. 
I love how children grow in confidence throughout the lesson, and the adult usually comes away learning something too. Although parents and children have been learning together lately, seeing the interaction is wonderful. Especially when using the pasta machine or comparing cake decorating. Giving the gift of cooking is truly a wonderful thing that lasts a lifetime.
In a private lesson, you can ask all those questions. Google does not always know the answer. I have 30 years of hospitality, food manufacturing, and the experience of feeding a family. I can explain things in plain English to ensure you can replicate what we make.
It always surprises people how much you can make in two hours when you know how. I never rush people and go at a relaxed rate which enables you to take in what we are doing. More experienced cooks may create more; every lesson is different and bespoke to your needs, whether dietary or otherwise. 
I am a very patient teacher and am used to complete novices. In recent years I have seen an increasing number of older men wanting to learn some up-to-date recipes, improve cooking skills after bereavement or become a carer of their wife. A generation where they went out to work and mum cooked hearty meals. They want to learn to recreate them or sustain themselves in a healthier way than unhealthy ready meals. Cooking skills enable them to make more choices and control their eating choices.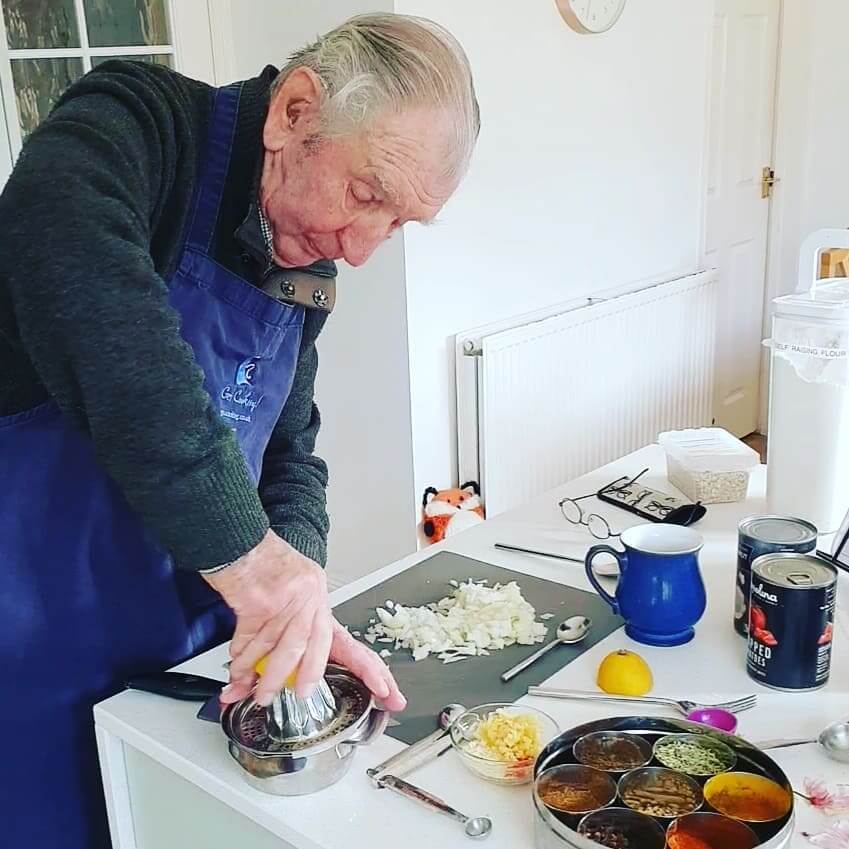 Sometimes I get friends wanting a relaxing baking session or wishing to learn about some healthy family meals. Batch cooking and adaptability for picky eaters are very popular! For some, it is time which enables them to spend time with loved ones and celebrate a Birthday or Anniversary.
Family cooking sessions are increasing in popularity too. I keep being told children are more willing to try new things when taught by someone else. They are more open to ideas and follow instructions without any pressure and no worries about the mess they make. Great to see families have fun and work together to recreate their favourite takeaway.
Vegan cooking has been prevalent over the last few years, especially for university students. Luckily I know loads of quick, tasty, frugal recipes for sustaining them and cooking for their fellow housemates or family.
Aim of private cooking lessons
My aim has always been to show you what you can do with your ingredients, and the recipe is a guide. I encourage you to deviate and make the most of your store cupboard ingredients and seasonal vegetables you have to hand, no matter how ordinary. It's all about flavour and discovering how to use it effectively.
You can purchase them here if you would like to give a private cooking lesson as a life-enhancing experience. You can personalise them and email them to your or the intended recipient's mail inbox. They are valid for a year and can be used online or face-to-face when we are able. 
If you are struggling financially this year, I have made sure the online live cooking lessons remain affordable. Buy a gift voucher and let the recipient choose between various cooking classes to suit different tastes.
If you want to discuss how I can help you or provide a fun cooking experience get in touch. Anne Marie x