Yes, you can eat nettles! Although you may want to check with a doctor if you suffer from kidney/urinary infections or are pregnant as it is a natural diuretic. Some people are allergic to them too.
Nettles are best eaten in the Spring when the shoots are young. They contain various beneficial vitamins and minerals. They are best eaten after blanching in hot water to get rid of the sting. Only blanch briefly otherwise all the nutrients will be lost.
What can I make with nettles?
Spinach replacement You can cook nettles as you would spinach and great in soup or pesto. Fresh sprouting leaves are best and avoid them once it begins to flower.
Tea Leaves can be dried and stored in an airtight jar and used to make tea. Steep the leaves in boiling water for about 4-5 minutes before straining. Add a sweetener of choice if you wish. Nettle tea may be helpful for various ailments including aches and pains or bloating.
Pesto A handful of nettles can be blitzed in a small hand blender with 100-150ml of oil, garlic (or three-cornered leeks) and a handful of nuts or seeds like hazelnuts, walnuts, cashews, pumpkin or sunflower to make a tasty pesto which can be kept and added to a range of dishes.
Other uses Nettles can be added to soup, risottos and stews in replacement of spinach too.
Fancy a DIY hair conditioner? All you need to do is add a handful of nettles to one litre of cooling boiled water into a jug, and add 3 or 4 tablespoons of apple cider vinegar if you wish for an extra conditioning boost. Leave to steep for up to 12 hours and strain. Use all the liquid fresh, do not store it.
Another Popular invasive plant found in gardens – Three-cornered Leeks
Another common ingredient prevalent in gardens is three-cornered leeks, a cross between a spring onion and garlic and works equally as well in pesto, stir fry or salad dressing. Below I have added them and forget-me-nots to a salad. For a dressing, I blended a few basil leaves and stems of three-cornered leek with a dash of lemon and a good glug of oil.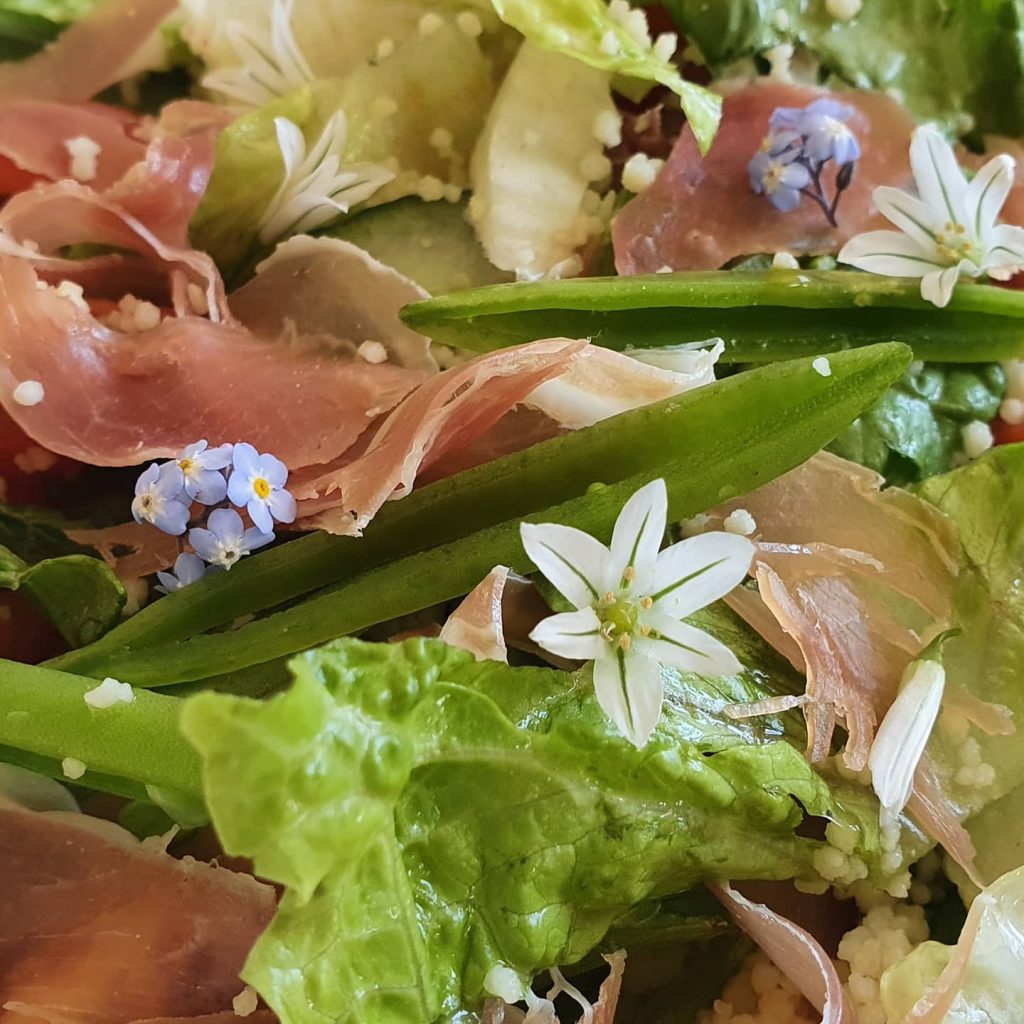 Cooking tips If you want more information on seasonal ingredients or want to share your own recipes please join my Facebook group Cooking Made Easy. Would like to learn more about wild plants and herbs? Find advice about growing edible plants in your garden in my Facebook group wellies2bellies.
For more personal advice regarding cooking and growing your own food at home or in an allotment, I can provide a private lesson to suit your requirements. Feel free to contact me for more information.