I am often asked about growing vegetables.  I have had an allotment for about 12 years in total and as a busy working mum, I don't get to spend loads of time to tender my plants.  Here are a few tips to help you get underway if you fancy starting a veggie patch in your back garden.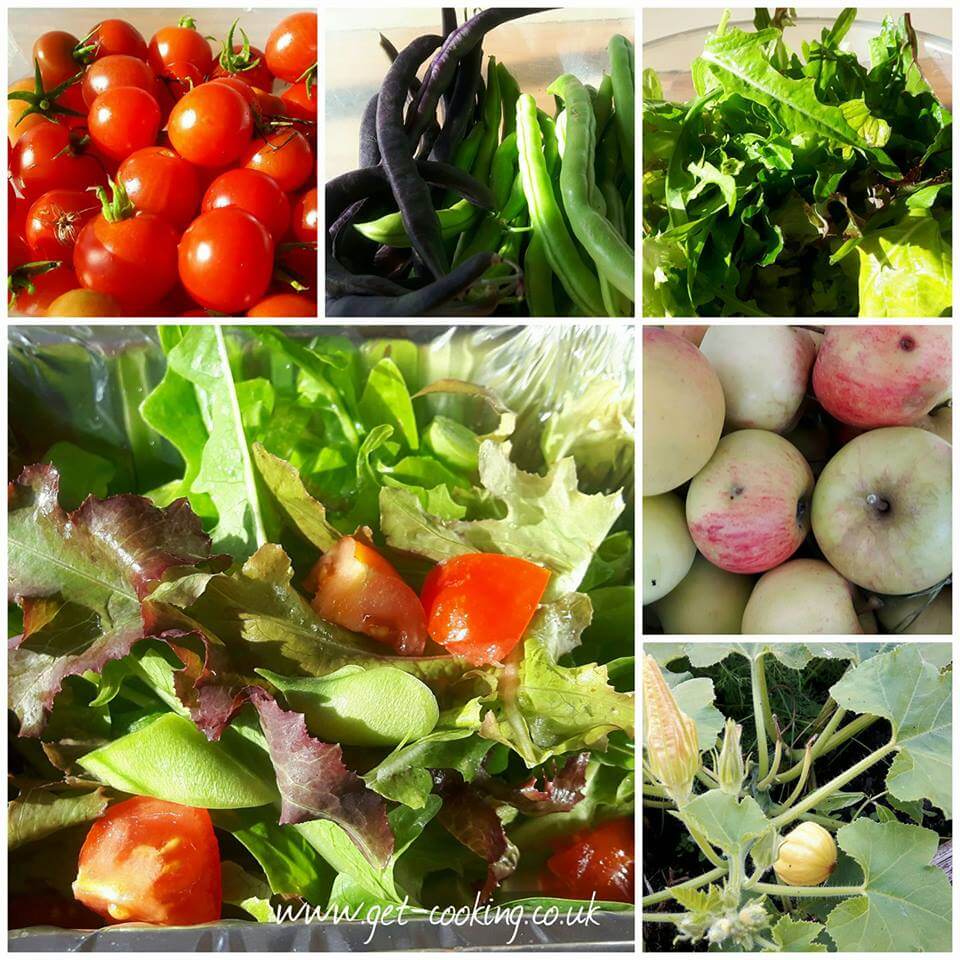 Grow food that you enjoy eating, is expensive in the shop, or has so much more flavour when freshly picked.
Start with three or four vegetables so you don't get overwhelmed if things don't go to plan.
Choose reliable crops that are more foolproof than others such as tomatoes, peas, beans, lettuce, beetroot, spinach, chard and radishes. These can also be grown in troughs, pots and hanging baskets.
Use fast-spreading vegetables to cover large patches of ground and suppress weeds – squashes, cucumbers and courgettes are great for this.
Window sill herbs are a great place to start, they can last a long time and therefore are a good option. Hardy herbs such as rosemary, sage, and thyme that last all year round.  Perennial herbs (die down and grow back in following years) are also a good option such as marjoram, oregano and thyme.
Chose a sunny spot in the garden for the best result. Well-drained soil is best.  To avoid lots of watering, plant plastic squash bottles in the ground upside down and cut the bottom off so you can fill them with water.
Fruit shrubs in tubs are an easy option. They are easy to maintain and can be grown in pots and hanging baskets as well as in the garden.  Gooseberries, blueberries, raspberries, and various currants grow really easily – and berries freeze well.  If you have more space, plant a fruit tree.
March is a great time to get planting seeds;  peas, broad beans, garlic, leeks, and beetroot can be planted straight into the ground so need to pot them up.
October to November is a great time to plant garlic, broad beans, and onion sets. In the Spring, it is lovely to see something growing in the ground. Leeks and spinach also keep growing through the winter, alongside winter salads such as lamb's lettuce and Mizuna.
BENEFITS OF GROWING YOUR OWN FRUIT AND VEGETABLES
There is nothing that compares to picking your own food out of the garden. Freshly picked, it will have more nutrients, and will not covered be in pesticides, thus tasting superior to produce in the shops.
If you are looking for more inspiration and advice and are on Facebook, come and join wellies2bellies and share your garden adventures!
Or why not join one of our Vegan cooking lessons for inspiration!
Get in touch for more information on how you can increase your diet with more vegetables and be more creative with seasonal produce.
I can't wait to use the produce I grow in my cooking lessons.